About Matthew Montfort
Guitarist Matthew Montfort is known as a world guitar innovator and an inspiring music instructor who helps students of all levels and ages learn whatever style they desire. He is on the 100 Greatest Acoustic Guitarists list at DigitalDreamDoor.com along with such luminaries as Michael Hedges, Leo Kottke, Chet Atkins, John Fahey, Adrian Legg, Merle Travis, John Renbourn, Tommy Emmanuel, Doc Watson, Pierre Bensusan, Toni Rice, Alex De Grassi, Stefan Grossman, Artie Traum, Joni Mitchell, and Peppino D'Agostino. He is the leader of the world music group Ancient Future, a skilled music producer, a composer, and the author of a rhythm training book used at many music schools including the Berklee College of Music. He performs on many instruments, including scalloped fretboard guitar, Glissentar 11 string fretless guitar, electric guitar, classical guitar, flamenco guitar, bass guitar, ukulele, sitar, charango, mandolin, and gamelan.
Featured Press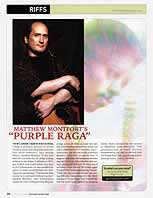 GuitarPlayerMag.pdf (1.4 MB)
This five page story from the December 2009 collectible commemorative Les Paul issue of Guitar Player Magazine includes a full page feature with a photo of Matthew Montfort superimposed over psychedelic artwork portraying Jimi Hendrix, an interview, a GuitarPlayer.Com video of Matthew Montfort performing his 'Purple Raga' composition live at Ancient Future's 30th Anniversary Concert, and a lesson entitled "The Music of Jimi Hendrix Applied to Indian Raga," which explains Montfort's musical concepts behind the 'Purple Raga' track on Seven Serenades for Scalloped Fretboard Guitar.