Private Lessons with Matthew Montfort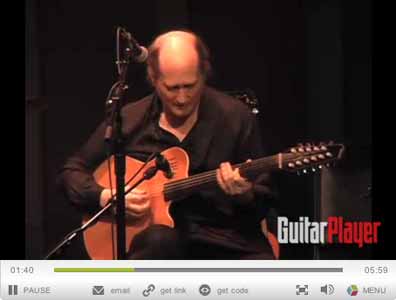 Recognized as one of the world's 100 Greatest Acoustic Guitarists, Matthew Montfort teaches all styles of guitar along with music theory and repertoire for all instruments. He helps students reach their own personal goals in music, whatever they may be, through a lesson plan customized to the student's needs. He offers private guitar lessons, music tutorials, and group classes in the San Francisco Bay Area and online. He is available to teach master classes and workshops worldwide.
To contact Matthew Montfort about lessons, e-mail him at info@ancient-future.com or call 415-459-1892.
Interactive Lessons Via Skype
Over Four Decades of Teaching Experience
Patient
Theory for All Instruments
Technique
Improvisation for All Instruments
Rhythm Classes for All Instruments
Reading Music
All Levels
Children Age 5 Up
Rock
Jazz
Folk
Classical Guitar
Flamenco Guitar
Bass Guitar
Ukulele
World Music
Student Recitals
Montfort wrote the book Ancient Traditions – Future Possibilities: Rhythmic Training Through the Traditions of Africa, Bali, and India, which has been used by many musicians to improve their rhythm skills. He is on the faculty of the Blue Bear School of American Music and the Zambaleta World Music and Dance School in San Francisco.
Montfort was interviewed in the December 2009 Les Paul issue of GUITAR PLAYER MAGAZINE about his pioneering guitar work and his application of the rules of Indian raga to the music of Jimi Hendrix as exemplified by 'Purple Raga' from his debut solo recording, Seven Serenades for Scalloped Fretboard Guitar. He is also known for his work on the Glissentar 11 string fretless guitar, electric guitar, flamenco guitar, classical guitar, bass guitar, sitar, charango, mandolin, gamelan, and as leader of the popular world music group Ancient Future. He has performed worldwide, from the Festival Internacional de la Guitarra on the golden coast of Spain to the Festival of India in Mumbai, and on national radio and TV shows such as the Echoes Living Room Concerts on Public Radio International and the Rachel Maddow Show on MSNBC.

He teaches private online lessons worldwide via Skype, FaceTime, Zoom, and other conferencing services, or through audio and video file exchange.
When COVID-19 subsides, he will be accepting a limited number of students for private lessons at his studio in San Rafael, California (zip code 94901), and at student's homes in Marin County.
Students
Jacob Friedman and Matthew Montfort perform in Montfort's teaching studio in San Rafael, California.
Student Recitals and Success Stories



Some of Matthew Montfort's former students have enjoyed success in the music business!
essence. Winner of the Lileth Fair competition and signed to RCA Records.

Tina Malia. "Her voice is as pure as fresh water bubbling from a mountain spring. As a songwriter, she evokes visions of a higher realm, a place of peace and oneness, yet her words are very much of this world, and of the earth. Her name is Tina Malia - a name that will be well known before long, because this young woman is destined for musical immortality."--Magical Blend Magazine
Dylan Moon. Studied rock guitar, music reading, music theory, classical guitar, and flamenco with Matthew Montfort. "Moon became interested in the guitar at age three, and began receiving formal instruction three years later. Originally influenced by early rock and rollers such as Chuck Berry and Buddy Holly, Moon's main sources of inspiration expanded to include David Gilmour and Jeff Beck. Moon also sings and plays violin, cello, piano, and flute. In 2003, the young guitarist received an endorsement from EMG pickups after a representative saw him playing at Zone Music in Cotati, California. Moon has recorded several of his original compositions, which are very impressive, especially considering his age. He employs effects to create moods that bring to mind progressive artists such as Pink Floyd." --GuitarPlayer.Com
Richard Storbeck. "This past week Richard Storbeck began teaching music history and electric guitar to 6th graders at James Lick Elementary School. Richard has been an advanced student at Blue Bear for a couple years and this Spring Quarter is also starting up as one of our guitar instructors on Saturdays."--Blue Bear School of Music Newsletter

Develop musical success of your own! Email info@ancient-future.com or call 415-459-1892 to schedule a lesson. Find out about music classes by signing the guestbook.
Matthew Montfort teaches and produces records from a studio in Marin County, California. Postal: Matthew Montfort, POB 264, Kentfield CA 94914-0264. Email:
info@ancient-future.com
. Tel: 415-459-1892. Website:
matthewmontfort.com
.